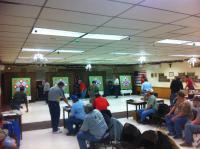 Thursday Night Commercial League
This league is played on Thursday nights beginning at 7:30pm at American Legion Post 53 in Eau Claire. It is a 80% handicap league with four players on each team. Play begins at the end of September and continues through the end of March. Cost to play each night is $3. The median run average of the league is 10 runs per game. This league hosts both veteran and beginning players with 16 teams currently.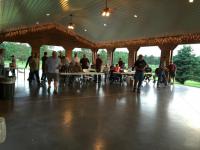 Luck of the Draw Summer League
This is a no commitment league that is played on Wednesday evenings beginning at 7:45pm. This league plays weekly during June and July. No need to belong to a team or be there every week. Players are randomly placed on teams as they arrive. A round robin format is used and the cost to play is $3 per night. This league usually plays at the American Legion Post 53 in Eau Claire, but it does travel to other locations from time to time. Never played dartball before or want to see what it's all about, then this is the perfect league to try out!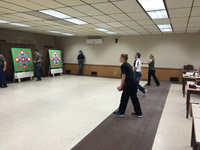 Two Man Tournament
Our two man tournament is held the first Saturday in December. The tournament has a limited average for entries. Both your partner and you cannot have composite average higher than 0.490. Teams range from father/daughter teams to father/son teams and the median runs scored is about six in a five inning game. Never played in a dartball tournament before? This is a great place to start! Entry fee is $12 per team and limited to the first 32 teams. More information can be found on the
events
tab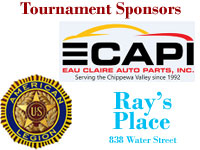 Three Man Tournament
Held on the 4th Saturday in January, this tournament is open to all averages. It is a round robin type format playing two, three inning games. Entry fee is $35 per team with a payout of over $200 to the winner. Tournament is sponsored by Eau Claire Auto Parts, Ray's Place and American Legion Post 53. More information can be found on the
events
tab
Luck of the Draw Tournaments
These one day tournaments are held are various locations throughout the Chippewa Valley. These are great tournaments to attend if you want to learn the sport of dartball. No need to have a team as you will be randomly placed on one once you arrive. Cost is around $10 per person. Check the
events
tab for the location of the next tournament in your area.