Summer League Schedule Now Available
The 2018
summer league schedule
is now posted under the schedule tab. All games will take place Wednesday nights at the American Legion beginning at 7:30pm.
Three Local Hurlers Elected into HOF
Three area dartball players were elected into the Wisconsin Dartball Hall of Fame on Saturday, April 7, 2018. Brothers Terry and Ron Ford along with Wallace Rolly Topper Sr became part of the hallowed organization. All three have had long and successful careers with Terry and Ron still playing currently. Wally was an avid supporter of dartball and this was shared to his entire family. Congratulations to everyone. You definately deserve this honor and thank you for representing Eau Claire Dartball so well.
Area Teams Successful in State Tournament
Local teams showed that they can compete on dartball's biggest stage in the 2018 state tournament in Eau Claire. V&M Bar, which includes some former and current Eau Claire dartball players, won the Class B title over Nordic of Viroqua. Gerhard's repeated as consolation champs deafeating Eau Claire Auto Parts for the second year in a row. Extreme Clean won the Women's consolation championship defeating Bull Pen. Our Redeemer Huskies, who play in the Chippewa Valley Church League, finished 4th consolation in class C in their first state tournament appearance. Eau Claire dartball and Chippewa Valley Church League made up a total of 15 of the 112 teams at the event. Nice job to all who participated and see you next year in Oshkosh.
Club 40 Wins 3rd Title in a Row
In a battle of the top two seeds, Club 40 won it's third league championship in a row and their fourth in the last five years beating Dean & Sues 18-12 and 22-20. This also ties Club 40 for 2nd all-time with MBC Sports for the most league championships in history. McFadden's Trucking still leads all teams with 18 championships. In the third place game, Jerry's defeated Gerhard's 18-12, 18-11.
2017 2-Man Tournament Results
The 2017 version of the 2-man tournament saw 15 teams participate in an action packed day. Chad Anderson and Scott Miller were crowned the champions at the end of the day. This is their first 2-man title. Thanks to all who participated and see everyone next year! The rest of the results are below.
Area Teams Compete in State Four-Man
Four area teams competed in the 2017 state four-man tournament December 2nd held in Richfield, WI. A total of 44 teams spread out over three divisions entered the tournament. Club 40, playing in Class A, was the best finisher from the area by winning the consolation championship. They beat out Pete & Sons Too out of Green Bay in a one game, nine inning affair. Congratulations to all teams.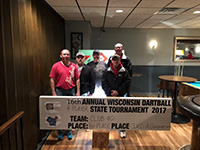 Looking for Stats?
Check out the stats tab for all up-to-date league stats. Under the stats database section you will find individual stats, team stats, and run averages for this season and prior seasons. Clicking on high hitters will take you to the players that hit 0.500 for the week. Lastly the weekly results tab will show you all the scores from each week. Lots to view and explore!