Three League Champions Crowned
League champions in all three divisions were crowned at the annual league banquet Tuesday, April 10th. Good Shepherd won the American League by defeating Truax who was seeking it's fourth straight title. Our Redeemer Badgers won the National League title by sweeping both halves. In the Northern League, Rock Creek defeated Hope Lutheran to claim the title.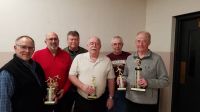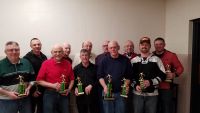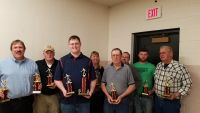 Our Redeemer Huskies Shine in State Tournament Debut
Our Redeemer Huskies managed by Dale Ginder finished 4th in the Class C consolation bracket at the 2018 state dartball tournament held in Eau Claire. They lost their first set to Reedsburg Area Hurlers 9-8; 2-10; 1-12, then won their next set versus The Office. They won their first match on Sunday over Southern Stars 5-2; 11-2, before falling to Chaser's Bar & Grill 2-3; 3-7. They finished the tournament by coming up short to Uptown 4-7; 0-1. Nice job gentlemen on a great tournament.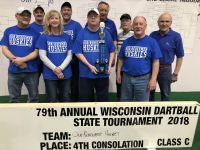 4th Annual Northwest WI Church League Tournament Results
The 3rd annual tournament took place Saturday, February 24th 2018 at Calvary Baptist Church in Eau Claire, WI.

Current Week High Hitters
| Date | League | Name | Hits | At Bats | Ave | Other |
| --- | --- | --- | --- | --- | --- | --- |